Please join in praying this special Novena (Equality Begins in the Womb), beginning Wednesday, January 12 through Thursday, January 20. 
Click on the links below to join in praying for the end of abortion and to establish a 'Culture of Life' for all – protecting all lives – unborn to natural death. 
Intercessory Prayer.9 Days for Life Novena





SUPPORT OUR PARISH SCHOOL…TICKETS AVAILABLE IN THE SCHOOL OFFICE AND FOLLOWING ALL MASSES ON SATURDAY & SUNDAY, JANUARY 29-30
We are the Catholic Church in the State of Hawaii
From Bishop Larry Silva
So then you are no longer strangers and sojourners, but fellow citizens with the holy ones and members of the household of God, built upon the foundation of the apostles and prophets, with Christ Jesus himself as the capstone.
Ephesians 2:19-20
When you give to the 'Ohana in Christ appeal, your gift not only assists the diocesan mission, you also help support your parishes, pastors, schools, service agencies and communities. Your generous contribution is indeed needed to strengthen vital programs as "fellow citizens" striving to make a difference in our islands by our witness to Jesus. I truly appreciate your support of the Bishop's Circle, and humbly ask for your prayerful and generous gift to the 'Ohana in Christ annual appeal.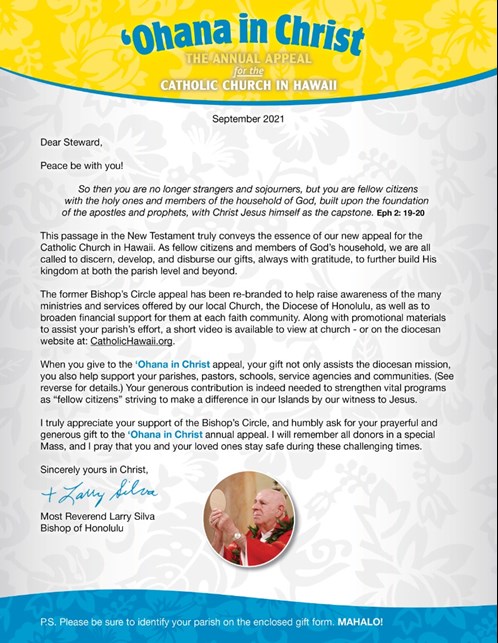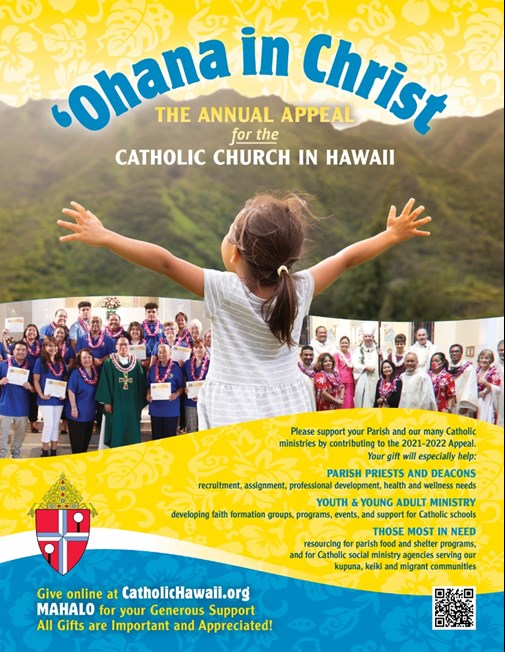 Hear directly from Bishop Larry Silva and Vicar General Gary Secor as they share what it means to be in the Diocese of Honolulu family…please click on the link:
Special message from Bishop Larry Silva…
As many of you know,
St. Philomena Church and Early Learning Center in Honolulu suffered a major fire on Labor Day weekend as a result of arson. 
 The property Insurance will not cover the majority of the loss due to program deductibles and pre-existing termite damage which occurred prior to the fire.  Any parish or parishioner who can help St. Philomena with this tremendous cost can do so at 
https://www.catholichawaii.org/philomena-fire
. Your kokua will be greatly appreciated! God bless you all!
Thank you!
Most Reverend Clarence (Larry) Silva
Bishop of Honolulu
BE PREPARED! 
Click on the link for your Red Cross Hurricane Safety Checklist: Hurricane
CELEBRATING 500 Years of Christianity in the Philippines – Hawai'i 
Part 1 (Clergy): 500 Years of Christianity in the Philippines – Hawai'i Celebration
https://vimeo.com/491446258 (click on this link to view a short video)
Part 2 (Sisters) 500 years of Christianity in the Philippines – Hawai'i Celebration
https://vimeo.com/522533292  (click on this link to view a short video) 
Sunday offerings & donations may be mailed directly St. Theresa Parish Office, P.O. Box 159, Kekaha, HI 96752
A Year of St. Joseph
On the solemnity of the Immaculate Conception, Pope Francis has released an Apostolic Letter about Saint Joseph and has declared a "Year of St. Joseph" which will be observed from December 8, 2020 to December 8, 2021.
The letter, Patris corde ("a Father's heart")  is released on the 150th anniversary of the proclamation of Saint Joseph as patron of the Universal Church.
The Pope writes:
After Mary, the Mother of God, no saint is mentioned more frequently in the papal magisterium than Joseph, her spouse. My Predecessors reflected on the message contained in the limited information handed down by the Gospels in order to appreciate more fully his central role in the history of salvation. Blessed Pius IX   declared him "Patron of the Catholic Church", Venerable Pius XII proposed him as "Patron of Workers" and Saint John Paul II as "Guardian of the Redeemer". Saint Joseph is universally invoked as the "patron of a happy death".
Now, one hundred and fifty years after his proclamation as Patron of the Catholic Church by Blessed Pius IX (8 December 1870), I would like to share some personal reflections on this extraordinary figure, so close to our own human experience. For, as Jesus says, "out of the abundance of the heart the mouth speaks" (Mt 12:34).
My desire to do so increased during these months of pandemic, when we experienced, amid the crisis, how "our lives are woven together and sustained by ordinary people, people often overlooked. People who do not appear in newspaper and magazine headlines, or on the latest television show, yet in these very days are surely shaping the decisive events of our history. Doctors, nurses, storekeepers and supermarket workers, cleaning personnel, caregivers, transport workers, men and women working to provide essential services and public safety, volunteers, priests, men and women religious, and so very many others. They understood that no one is saved alone… How many people daily exercise patience and offer hope, taking care to spread not panic, but shared responsibility. How many fathers, mothers, grandparents and teachers are showing our children, in small everyday ways, how to accept and deal with a crisis by adjusting their routines, looking ahead and encouraging the practice of prayer. How many are praying, making sacrifices and interceding for the good of all". Each of us can discover in Joseph – the man who goes unnoticed, a daily, discreet and hidden presence – an intercessor, a support and a guide in times of trouble. Saint Joseph reminds us that those who appear hidden or in the shadows can play an incomparable role in the history of salvation. A word of recognition and of gratitude is due to them all."
For a full text if the letter, please visit   http://www.vatican.va/content/francesco/en/apost_letters/documents/papa-francesco-lettera-ap_20201208_patris-corde.html
Options for Mass

EWTN (channel 30, 408,1408) with Sunday & Daily Mass at 1:00 p.m. & 6:00 p.m., Rosary 9:30 a.m. & 3:30 p.m. or KUPU (channel 56 or 1056) with Sunday Mass at 10:00 a.m. & and Rosary 12:30 p.m. 
Also, on YouTube, The Catholic TV Network has daily and Sunday Masses available
Please continue to pray our Stewardship Prayer and the Diocesan Prayer for Vocations…
O Mary, you always shine on our path as a sign of salvation and of hope. We entrust ourselves to you, Health of the Sick, who at the cross took part in Jesus' pain, keeping your faith firm. You, Salvation of the Roman People, know what we need, and we are sure you will provide so that, as in Cana of Galilee, we may return to joy and to feasting after this time of trial. Help us, Mother of Divine Love, to conform to the will of the Father and to do as we are told by Jesus, Who has taken upon Himself our sufferings and carried our sorrows to lead us, through the cross, to the joy of the resurrection. Amen.      Under your protection, we seek refuge, Holy Mother of God. Do not disdain the entreaties of we who are in trial, but deliver us from every danger, O glorious and blessed Virgin. Amen. 
St. Theresa School celebrated Catholic Schools Week beginning on Sunday, Jan. 26 through Friday, Jan. 31…starting off with the STS Family Mass.  Pictured are Fr. Edwin D. Conselva, M.S., Pastor, Principal Wendy Castillo, and Mrs. Charlene Lazaro, STS teacher, along with some of our happy learners!  Mahalo to our parish school for keeping Catholic education alive and well on the westside of Kauai!  
Our parish came together on Sunday, January 5 to celebrate and honor Fr. Edwin Damien Conselva, M.S. on his 5th year Priestly Anniversary with a potluck brunch at the historic Waimea Theater.  Fr. Edwin's siblings from Oahu and the Big Island joined in the celebration making it an even happier occasion!  Following brunch, we viewed the movie, "Molokai:  The Story of Fr. Damien" a movie that reminds us to serve our fellow brothers and sisters with the love of Christ in all we do.  God bless Fr. Damien…he is indeed a Saint to be imitated!  We all thank God for Fr. Edwin and pray that he will continue in his role as our Pastor for years to come…God bless you, Fr. Edwin on your anniversary and always!  
Photos from daily Mass on Fr. Edwin's actual anniversary date, January 3, 2020

CELEBRATING FR. EDWIN ON PRIESTHOOD SUNDAY, OCTOBER 27, 2019

Big MAHALO to our parish Hospitality Committee for organizing a Garden Tea Party where everyone came together to celebrate Fr. Edwin and all priests on this special day!   

Fr. Rico Bernadez with some of our 5 p.m. parishioners
on Saturday, Oct. 19.  We thank Fr. Rico for filling in for our 
Pastor, Fr. Edwin D. Conselva, M.S. who was on retreat 
in the Philippines.  Aloha, and salamat po, Fr. Rico! 
A BIG MAHALO TO ALL OF THE FAMILIES THAT OPENED THEIR HOME TO US TO PRAY THE ROSARY TOGETHER IN THE MONTH OF OCTOBER 'MONTH OF THE HOLY ROSARY'  
Celebrating Our Lady of LaSalette / Sept. 19, 2019
  p.m.
Happy Birthday, dearest Mother Mary!
September 8 


Pastor Edwin Damien Conselva, MS (LaSalette Missionary)
Want to help families provide a quality Catholic education for their children? 




Click here to find out how YOU can help…

St. Theresa School Tuition Assistance Program flyer
BE WARNED! 
A text and E-mail scam is making its rounds once again…DO NOT RESPOND TO THE SCAMMER'S REQUEST for 3 -$100 iTunes gift cards…THIS IS A SCAM!  
Saturday's 5 p.m. Mass, June 29, 2019
 
Sunday's potluck 'Aloha, Fr. Boyet' and 'E Komo Mai, Fr. Edwin'
June 30, 2019

Our faithful morning Mass attendees with Fr. Boyet on Wednesday, June 26 at St. Theresa Church, Kekaha




PHOTOS FROM FR. BOYET'S 'ALOHA' LUNCHEON (JUNE 23 AT WONG'S RESTAURANT)


You can see Fr. Boyet and his awesome Tinikling dance# on Facebook 🙂 
A Hui Ho, Fr. Boyet…until we meet again! 

Fr. Boyet with parishioners and friends from Maui following daily Mass, June 11,2019

First Saturday Devotion to the Blessed Virgin Mary – June 1, 2019
No words needed, awesome photo Julian Gilliam!  





St. Theresa Church & School on the first night of this year's school carnival (4.26.19)
Our faithful youth altar servers


                    


Altar server meeting w/Fr. Boyet              Easter Vigil altar servers with Fr. Boyet
Our beautiful Altar of Repose for Holy Thursday's Adoration, April 18, 2019


Healing Mass on Wednesday of Holy Week, April 17
     
Kauai Vicariate Youth and their coordinators at
this year's World Vision Famine Retreat

On March 8-9, the Kauai Vicariate had its first Famine Retreat.  Following the program created by World Vision, a Catholic humanitarian relief agency similar to CRS, students learned about the less fortunate people in Africa who are suffering from malnutrition and famine, while fasting for 24 hours.
This year is the first time that members from other parishes joined St. Theresa´s youth group for the famine retreat.  It was held over 1 day and 1 night at St. Catherine´s School in Kapa´a.  Students from St. Theresa, Immaculate Conception, and St. Catherine´s Parish worked together to perform tasks, play games, and discuss major world issues that affect our brothers and sisters around the world.
The students willingly gave up part of their weekend to come together and learn more about those who face famine in their daily lives.  Tying the retreat in to the season of Lent, the Famine was definitely a big sacrifice combined with a fun-filled weekend.  We´re already looking forward to next year´s famine. (submitted by Jonelle Renti Cruz, St. Theresa Parish Youth Coordinator)
Fr. Boyet and parishioners of St. Theresa & Holy Cross 
at the Feb. 17, 2019 Ohana Mass at St. Raphael Church    
St. Theresa parishioners w/Fr. Boyet (his last Ohana Mass)
Celebrating Fr. Boyet's birthday on Sunday, Jan.27
with Maica and Mama Timotea
2019 Santo Nino Novena at St. Theresa Church



PHOTOS

FROM

CHRISTMAS 

Our

beautiful

Nativity scene

at

St. Theresa Church! 
December's FCC Sunday w/Fr. Boyet, Glenda & Ursuline
Photos from our 2018 Misa de Gallo  
Some of our hardworking parishioners getting our Church ready for Misa de Gallo & Christmas! 
Second Sunday of Advent / "Prepare the Way of the Lord…"              
Photos from our Religious Education & Youth Ministry Luminary Light Prayer Service on Sunday, Nov. 11, 2018.
Just before the service started, we all looked up and saw this beautiful cloud formation and felt the presence of our loved ones and all the angels and saints…it was situated directly above those of us seated.  The second photo is as it drifted back to Heaven!
Some of our parish youth before the service with Youth Leader Mrs. Rena Ulanday.  Fr. Boyet with Religious Education Coordinator Mrs. Mary Ann McMillen in the background.
Some of the many luminaries with names of deceased loved ones.
Photos from the Diocesan Congress of Filipino Catholic Clubs held on Kauai, Nov. 2-4, 2018
St. Theresa Parish FCC members with Bishop Larry Silva and Fr. Boyet
St. Theresa Parish FCC members with Fr. Boyet                                    
St. Theresa Parish FCC members with Fr. Boyet,
and former Pastors, Fr. Danilo Galang, M.S. & Fr. Arnel Soriano, M.S.
October – Month of the Family Rosary & Respect Life Month
We thank all the families that opened their homes to the praying of the Holy Rosary and for sharing their gracious hospitality with those in attendance.  Let us continue to pray the rosary as often as possible.   Some photos from this year's home rosary visits:
Henriques Home / October 26, 2018
Acosta Home / October 25, 2018
Galano Home / October 22, 2018
Battulayan Home / October 15, 2018
Dullaga Home / October 12, 2018
Ramirez Home / October 11, 2018
Let us pray for the soul of our dear friend, Fr. Bob Udulutsch, OFM, CAP, who returned to the Lord on Monday, July 23.  Fr. Bob was a frequent visitor to our parish when Fr. Boyet and previous parish priests were on travel.  We thank God for sending him to us and ask that his dear soul rests in peace with the perpetual light shining upon him always!
Last night of our Novena to the Sacred Heart of Jesus &
Immaculate Heart of Mary at our Waimea Mission Church with
visiting priest, Fr. Syd (far left).
The last night of our special Novena to Mother Mary – Undoer of Knots at St. Theresa Church – May 31, 2018
St. Theresa School 8th Grade Graduation – Monday, May 21, 2018
Pentecost weekend was a weekend of great celebrations!  In returning to the Original Order of the Sacraments of Initiation (Baptism/Confirmation/First Eucharist), 24 Religious Education students, two (2) adults, and 37 students of St. Theresa School, received the Sacrament of Confirmation, some receiving their 1st Eucharist and one student being baptized into the faith.
Pictured are the 37 students of St. Theresa School
Celebrated Fr. Boyet's 28th Ordination Anniversary (4/24/90) with a parish gathering on Sunday, April 29.
HAPPY ANNIVERSARY, FR. BOYET!  
Day 9 of the Divine Mercy Novena at Sacred Hearts of Jesus & Mary in Waimea
April 7, 2018
Respect Life Prayer: Heavenly Father, the beauty and dignity of human life was the crowning of your creation. You further ennobled that life when your Son became one with us in His incarnation. Help us to realize the sacredness of human life and to respect it from the moment of conception until the last moment at death. Give us courage to speak with truth and love and with conviction in defense of life. Help us to extend the gentle hand of mercy and forgiveness to those who do not reverence your gift of life. To all, grant pardon for the times we have failed to be grateful for your precious gift of life or to respect it in others. We ask this in Jesus' Name. Amen.
Receiving Sacraments 'Baptism, Confirmation, and then, First Communion 11.5.17 (click here) 
Receiving Sacraments 'Thinking about the Sacraments of Initiation' 10.29.17 (click here)
Receiving Sacraments 'Out of Order' 10.22.17 (click here)
Returning to the Original Order 10.15.17 (click here)
This video will explain why we are moving back to the the original order of the Sacraments of Initiation (Baptism, Confirmation, First Communion (Eucharist))